Jeremy Backhouse is one of Britain's leading conductors of amateur choirs. He began his musical career in Canterbury Cathedral where he was Senior Chorister. In 1980 he was appointed Music Editor at the RNIB, where he was responsible for the transcription of print music into Braille. He worked for both EMI Classics and later Boosey & Hawkes Music Publishers as a Literary Editor, before pursuing a career as a freelance conductor.

Jeremy has been the sole conductor of the internationally-renowned chamber choir, Vasari Singers since its inception in 1980. Since winning the prestigious Sainsbury's Choir of the Year competition in 1988, the Vasari Singers have performed regularly on the Southbank and at major concert venues in London, as well as in many of the cathedrals and abbeys in the UK. Jeremy and the Vasari Singers have broadcast frequently on Classic FM, BBC Radios 3 and 4, and have a discography of over 25 CDs on the EMI, Guild, Signum and Naxos labels.
Recordings with the Vasari Singers have been nominated for a Gramophone award (Howells and Frank Martin), received two Gramophone Editor's Choice awards (Marcel Dupré choral works), a top recommendation on Radio 3's 'Building A Library' (Vaughan Williams Mass in G minor), and two recent CDs (Gabriel Jackson's Requiem and A Winter's Light, a disc of Christmas carols) both achieved Top Ten status in the Specialist Classical Charts. Most recently, Jeremy and Vasari have achieved audience and critical acclaim with the premiere of Jonathan Rathbone's 100-minute, a cappella set of vespers, 'Under the shadow of His wing' which they recorded in February 2015 and later released on their newly-launched VasariMedia label.

In January 1995, Jeremy was appointed Music Director of the Vivace Chorus (then the Guildford Philharmonic Choir). Alongside the standard classical works, Jeremy has conducted the Vivace Chorus in some ambitious programmes including Howells' Hymnus Paradisi and Szymanowski's Stabat Mater, Mahler's 'Resurrection' Symphony (No. 2), Prokofiev's Alexander Nevsky and Ivan the Terrible, then Mahler's 'Symphony of a Thousand' (No. 8) and Verdi's Requiem in the Royal Albert Hall with the Royal Philharmonic Orchestra, and Britten's War Requiem.

He is totally committed to contemporary music and to the commissioning of new works. He and Vasari have commissioned over 25 new works in their recent history, from small anthems to works of the grandest scale. This enthusiasm has spread to the Vivace Chorus who, in May 2009, commissioned and performed the premiere of local composer Will Todd's Te Deum and have recently commissioned a 20-minute work from Francis Pott, the choir's accompanist, to be premiered in May 2017 in the Royal Festival Hall.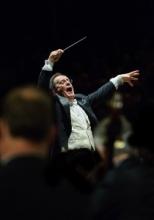 In January 2009 Jeremy took up the post of Music Director of the Salisbury Community Choir. His first major engagement with them was the opening concert of that year's Salisbury International Arts Festival, in Salisbury Cathedral, premiering a vast new work by Bob Chilcott entitled the Salisbury Vespers. In 2013 the choir celebrated its 21st Anniversary with a major concert in Salisbury Cathedral in October, featuring the world premiere of a specially-commissioned community work by Will Todd, The City Garden, which in subsequent years they toured to Lincoln (2014) and Guildford (2015) cathedrals.

Jeremy has also worked with a number of the country's leading choirs, including the BBC Singers, the Philharmonia Chorus, the London Choral Society and the Brighton Festival Chorus. For 6 years, to the end of 2004, Jeremy was the Music Director of the Wooburn Singers, in succession to Richard Hickox and Stephen Jackson.

Please visit www.jeremybackhouse.com for further information.