Image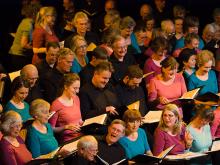 Ready for an adventure? If you're working from home and have more evenings spare, or you'd really like to get back into singing after a break, we'd love to hear from you.
We're very excited to be getting back to singing - and we are welcoming new members in all voice parts. If you're looking for a friendly choir in Guildford or Surrey, and you'd like to sing with professional orchestras and soloists, travel abroad and around the UK on tours, improve your breathing and mental health and generally have a great time, join us for a rehearsal or two at the Guildford Baptist Church on Mondays at 7.15pm. 
You'll get to sing some of the best music ever. This season we are celebrating 75 years of singing with the incredible Belshazzar's Feast, alongside Vaughan Williams' Five Mystical Songs - a real banquet of a concert in November 2022. After that, we'll be singing our ever-popular Carol Concert for the Mayor of Guildford at Holy Trinity Church before heading back to GLive in March for a jazz-based concert with Duke Ellington's Sacred Concert, Bob Chilcott's A Little Jazz Mass and Will Todd's Songs of Peace. 
And our summer concert is a proper Italian Job! Music by Allegri, Pergolesi and Monteverdi - what a great range of music across the season!