Image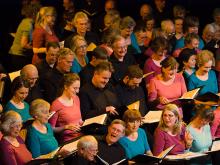 As we emerge from lockdown, perhaps you have more time at home, or simply feel the urge to try something new. Would you enjoy performing great concerts in exciting venues and be a part of one of the best choirs in the south of England?
Check out the opportunities and fabulous and varied concert programmes. We sing works by composers from Gershwin and Bernstein to Mahler and Mendelssohn and everybody in-between. You have the chance to join a three-concert tour to northern Spain, go to social events and make new friends.
Don't miss this opportunity; we look forward to welcoming you as we return to live rehearsals at our base in central Guildford.