Saturday, 14 March, 2020 - 19:30
Join us in the music and magic of Africa
Image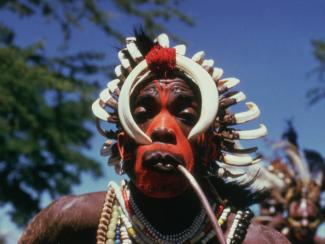 David Fanshawe's glorious African Sanctus has been performed around the world to huge acclaim and has an international following. It was hailed as an "Afro-Latin tribal-choral masterpiece" by The Observer and, talking about the work on BBC Radio 3, Antony Hopkins said: "African Sanctus is literally unique, both in conception and completion".
An unorthodox setting of the Latin Mass, it blends beautiful choral writing with unique and rare recordings of traditional African music collected by the composer himself on legendary journeys taken on the River Nile between 1969 and 1973.
This recorded music is woven into the live performance which also includes large chorus, percussion ensemble and instrumentalists. For this performance we'll be joined by the dancers of the Mighty Zulu Nation Theatre Company, and the world-renowned percussion group BackBeat Percussion Quartet.
This piece is more than a performance – it's an immersive event that puts you right in the heart of Africa, its tradition, its music and its magic.
Programme
| | |
| --- | --- |
| Fanshawe: | African Sanctus |